Podcasts have become more and more popular in recent years. It's an easy way for people to share their thoughts, stories, or opinions and more importantly, it's something open for everybody. The world of podcasts is full of inspiration. So here are 19 empowering and inspiring podcasts that can help you take charge of your life.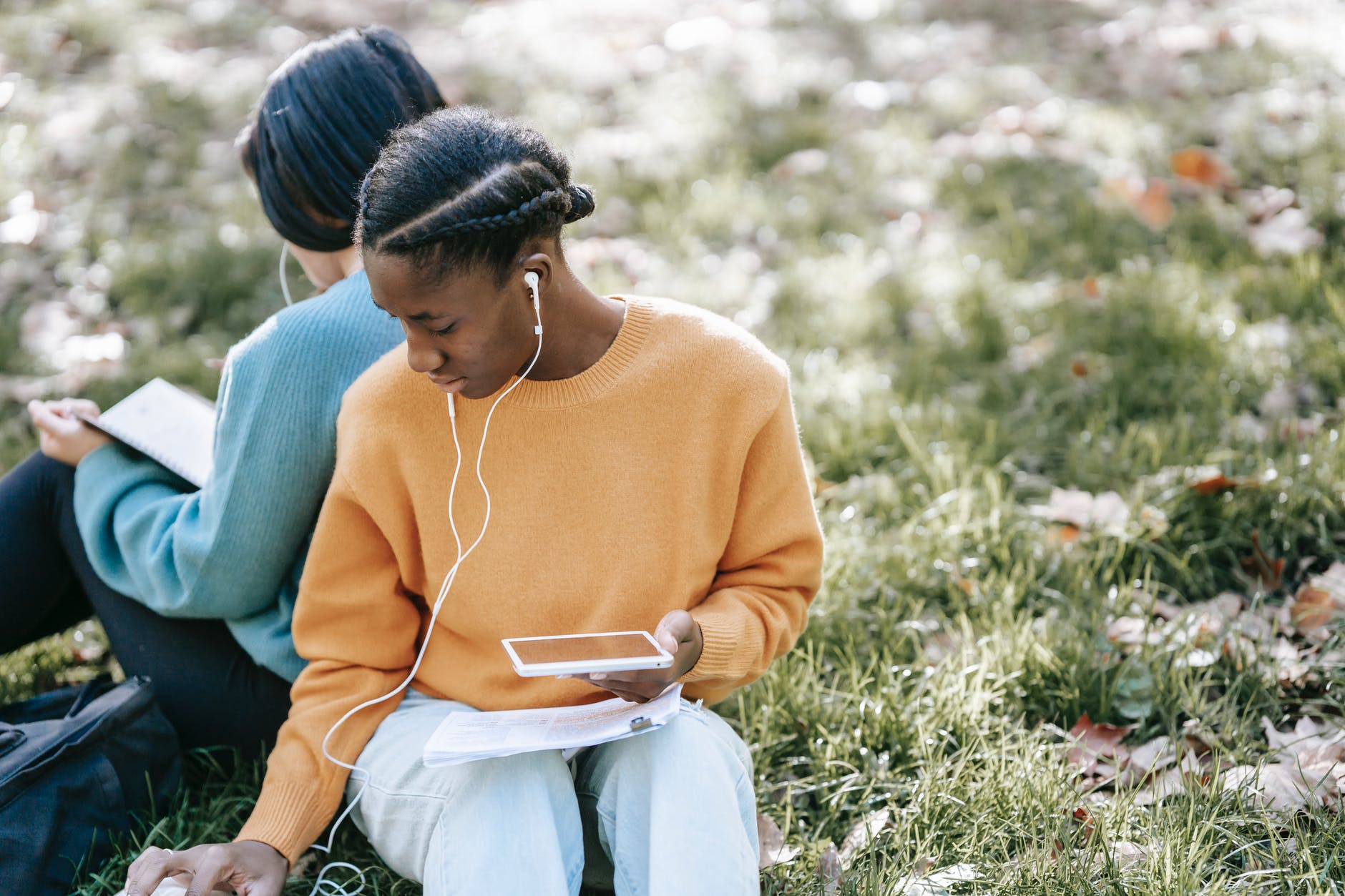 1. Women of Impact Podcast
The first podcast we want to introduce to you is hosted by Lisa Bilyeu. She is co-founder of the billion-dollar company Quest Nutrition and President of Impact Theory. This show features women who have overcome incredible hardship to achieve massive success. The mission of this inspiring podcast is to empower you and all women to recognize that they really can become the hero of their own life.
2. The Happiness Lab with Dr. Laurie Santos
Host and Yale professor Dr. Laurie Santos has studied the science of happiness. During her studies, she has found that many do the exact opposite of what will make their lives better. Based on the psychology course she teaches at Yale Laurie will take you through the latest scientific research. But that's not all, she also shares some surprising and inspiring stories that will change the way you think about happiness.
3. Make Shift Happen with Samantha Daily
"Make Shift Happen" is hosted by life coach, entrepreneur, and yoga instructor, Samantha Daily. Tune in for this podcast, if you are interested in inspiring conversations. The unfiltered stories will leave you feeling empowered every time you press play. Your host will draw on her years of study, world travel, and lessons from high-level mentors. In short, Samantha delivers expert advice, actionable steps, and next-level mindset hacks.
4. Passion Love Pursuit Podcast
This inspiring podcast has the goal to evoke positive change in your life. For this purpose, Erica brings on inspiring guests, some who are professionals in their field, some who are titans of their industry, and others that speak from life experience. They share their story and hope to inspire you to make a positive change.
5. Brown Ambition
Every Wednesday "Brown Ambition" helps you build wealth by saving, investing, and making smart career choices. Your hosts are personal finance expert and journalist Mandi Woodruff and Tiffany "The Budgetnista" Aliche, an award-winning financial educator and author of the New York Times bestseller "Get Good With Money".
6. Girls Gone Boss
Another example for an empowering podcast about young womxn in business, the "Girls Gone Boss" podcast brings you amazing conversations with real women. They share how they have overcome real obstacles. The podcast aims to empower and motivate the next generation of women to always dream big.
7. The Empowering Women Podcast
"The Empowering Women Podcast" shares interviews with successful career women from a variety of industries. They hope to empower women in their career aspirations, whether that's climbing a corporate ladder or becoming an entrepreneur.
8. Women in Tech Podcast, hosted by Espree Devora
The #womenintech Podcast is hosted by WeAreLATech's Espree Devora and features inspiring Women in Tech from Engineers, Female Founders, Investors, UX and UI Designers to Journalists. All of them share their story on how they got to where they are today. The purpose of the show is for every listener to walk away feeling 'If She Can Do It So Can I'.
9. Cultivating H.E.R Space: Uplifting Conversations for the Black Woman
In a world where black women are often underrepresented and misunderstood, this podcast aims to give them safe spaces to just be. Every Friday you can join Dr. Dom, a college professor and psychologist, and Terri Lomax, a techie and motivational speaker, as they initiate authentic conversations on everything from fibroids to fake friends.
10. Pretty Big Deal with Ashley Graham
Another inspiring and empowering podcast is "Pretty Big Deal". Hosted by supermodel, style icon, and barrier-breaking body activist Ashley Graham. Join her as she sits down with some of her brilliant, inspiring, and honest friends about what makes them a "Pretty Big Deal". Absolutely nothing is off-limits, so get ready.
11. The Broad Experience Podcast
Women's experiences at work can be challenging, rewarding, and downright ugly. "The Broad Experience" sparks candid conversations about women, men, careers, and success. The podcast discusses the stuff everyone's thinking about, but not always talking about. It's hosted by journalist Ashley Milne-Tyte.
13. Unf*ck Your Brain
"UnF*ck Your Brain" is the podcast for high-achieving feminist women who struggle with anxiety, self-doubt, and imposter syndrome. In each episode host, Kara Loewentheil shows how to overcome social conditioning and your own self-critical thoughts. The podcast aims to help listeners reduce their anxiety and insecurity. But at the same time, it teaches how to boost your self-confidence, and how to get what you want in life.
14. How I Built This with Guy Raz
Guy Raz dives into the stories behind some of the world's best-known companies. "How I Built This" weaves a narrative journey about innovators, entrepreneurs, and idealists—and the movements they built. Guests on this podcast for example include Bumble founder Whitney Wolfe Herd or Bobbi Brown from Bobbi Brown Cosmetics.
15. Peak Performance Podcast
The "Peak Performance Podcast" is about living your life and tackling situations that you are placed in daily. Above all, this podcast is for those willing to dig a little deeper to find solutions to everyday problems. It's a personal development podcast made simple and easy to understand and more importantly easy to use.
16. She Did It Her Way
In the "She Did It Her Way" Podcast host Amanda Boleyn takes a dive into the most important questions about starting a business. Every week, she delivers fresh content on productivity hacks, different business strategies, or how to confidently transition out of your 9-5. Along with sharing her business savvy tips, she interviews women who have also gone out and done it their way.
17. Asian Women of Power
In the "Asian Women of Power" podcast, Kimchi Chow shares her insights on life lessons she has learned from the past 4 decades living as an immigrant in the USA. Therefore, she shares tips from other Asian women and immigrants who overcame the challenges of cultural conflicts and how to find the key to claim power in life.
18. Being Boss
"Being Boss®" is an exploration of what it takes to be boss as a creative business owner, entrepreneur, freelancer, or side-hustler. As a result host, Emily Thompson explores the mindsets, habits, and tactics of harnessing your creative ambitions. So that you can make money doing work you love.
19. Girlboss Radio
The last empowering and inspiring podcast we want you to be aware of is "Girlboss Radio". While the term Girl Boss has come under fire, this podcast delivers stories that redefine success. From small business owners to engineers and activists, you'll hear how success can be so much more than just likes or dollars. Above all, this podcast is a must-listen for those who are expanding what success means to them and their community.
There you have it, an amazing list of 19 empowering and inspiring podcasts. We hope they help you take charge of your life. Make sure to give them a listen and to let us know what you think. If you love lists, make sure to check out our post on office essentials you never knew you needed and if you wanna know more about what it's like to be a young female founder, check out this post. 
If you have any questions or things to share, reach out to: shecareerblog@gmail.com
Be right back,
Ally
Disclaimer: All Podcast descriptions in this article are based on or copied from the information available on Spotify.