Lynn Kühner (27) is a successful freelance presenter, editor, and podcaster from Hamburg. She holds a bachelor's degree in German & English Studies and graduated with a master's degree in Media Studies in 2019. After Graduation, she set out as a freelancer and has created a successful career in freelancing since then. In this interview, Lynn shares her story and tells us more more about how to start a freelance business right after graduation.
An Interview With Lynn Kühner, Freelancer and Founder of Bossyourself Podcast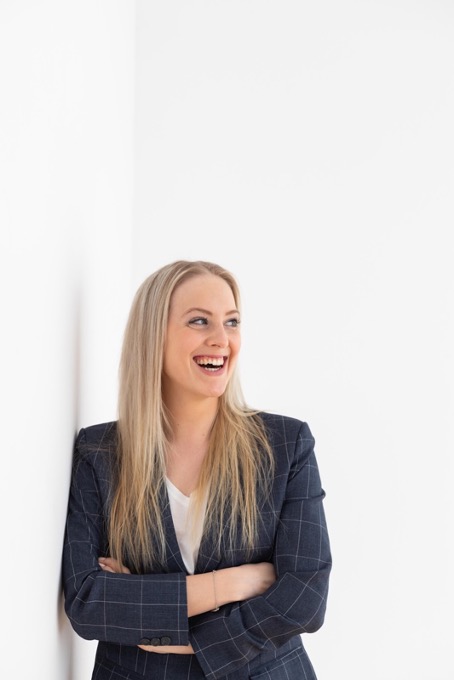 What exactly does "career" mean to you?
For me, "career" means achieving my own goals and being able to live the life I want – in terms of projects, work-life balance, colleagues and, of course, financially.
What was your first career aspiration?
Oh, there's been a lot, but creativity and entertainment has run through it all: From actress and singer as a kid, to writer and director later on. The latter actually worked out, so let's see what the future holds! 🙂
Did you ever think you would become a full-time freelancer?
Honestly, no. I didn't seriously consider it until shortly before it happened. I always assumed I'd be working as an editor somewhere in the media after graduation. Fortunately, I talked to the right people and found out that freelancing and I are a dream team.
Why did you decide to freelance?
I weighed all my options to find the best solution for me personally. I have varied (job) interests and had already built up a decent customer base during my studies. If I had gone into permanent employment, I would have had to give up a lot of that and I didn't want to do that. For me, the general conditions of most jobs in the media industry were much less enticing than freelance work. I struggled with myself for a while, but in retrospect, the decision to freelance was the best one for me.
What skills or characteristics do you need as a freelancer to get started?
Solid knowledge and first experiences in the field you want to work in are the basics. Additionally, the ability and the will to network, self-confidence, and a lot of diligence and motivation. And then of course you need to enjoy what you do.
What are the prospects of freelancing compared to a traditional career path?
It's more uncertain and more secure at the same time. Of course, you never know concretely how your career will develop and when you will go from "junior" to "senior". However, if you rely on yourself and your ambition, you can advance much faster as a freelancer. When where and how much you invest in further training is up to you. Just like how satisfied your clients are.
Where do you see the biggest difference between freelancing and a permanent position (apart from self-employment)?
The self-determined actions and decisions. I have full responsibility for my professional actions, in a positive and negative sense. For me freelancing is clearly the bigger opportunity to make the most of your own abilities.
In your opinion, why is freelancing still viewed so negatively in Germany?
We Germans are so fixated on certificates, education and training that can be proven on paper. Talents and skills are often only noticed when you have an official degree for them. The issue is that many freelance activities are so broad and individual that there is no textbook title for them. In addition, many people are afraid of insecurity – although, to be honest, not too much can happen here in Germany.
Lets Discuss: Freelancing Stereotypes
"Freelancing equals insecurity"
Sometimes you're just unlucky, but if you're lazy, unreliable, and bad at your job, then for sure. But freelancing is not as insecure as it is often portrayed. You can get a lot of security through long-term relationships with your clients – just as much as 3 months' notice in permanent employment.
"Freelancers work all the time"
That's up to you. If you have many time-intensive projects and place demands on yourself and your work, then you definitely work a lot. It becomes problematic if you have to work all the time to earn enough. Then you should rethink your prices.
"It's better not to freelance right after finishing uni".
It worked out great for me! But it depends on how diligently you build up contacts and gain practical experience during your studies. Without the two, it's going to be difficult.
Tipps
2 Tips for other young womxn in the phase between high-school and career entry
Listen to what YOU want. Not what others are doing on Instagram or what a friend is telling you about a friend. Focus on yourself.
Get as much hands-on experience as you can. Jobs, internships, job shadowing, etc. are extremely helpful to learn and to build your network.
2 things you wish you'd known before starting your freelance career
It's less scary than everyone says.
Share ideas with people who have been doing your future job for a while.
2 tips for young womxn who want to start freelancing
Listen to my podcast Bossyourself – self-directed freelancing 🙂 There, I share all the knowledge gathered with you.
Make a proper plan and don't rush. Think about whether you're better off with a part-time job or part-time freelancing before going all out. But that's up to the individual.
2 tips on how to acquire the first customers
Activate existing contacts and let them know what services you offer and that you have capacity.
Work on your own positioning – if you and others know what exactly your USP is, acquisition is much easier.
Starting your professional career with a Freelance Business Right After Graduation is often portrayed as daunting. The story of Lynn shows that it really doesn't have to be this way. Freelancing is a great option if you want to fully explore your interests and work on your own terms. Sometimes all that's needed is skill, and the belief in your own abilities!
Have you ever considered becoming a full-time freelancer or do you prefer fixed employment? Let us know in the comments! Also check out Lynn's podcast (in German) if you want to learn more about how to start a freelance business!
If you find to find out more about how to build your network, check out this post.
If you're interested in more university related content, click here.
Interview conducted by Paulin, compiled by Hannah.